Egyptian artist Wael Shawky opens a new exhibition at the Lia Rumma Gallery in Milan. The artist's first solo show in the city unfolds across the three floors of the gallery space, revolving around the projection on the first floor of the film "I Am Hymns of the New Temples," which was shot during the summer of 2022 among the ruins of Pompeii.
The exhibition's title is taken from this new work, which debuted earlier this year in May 2023 at the Teatro Piccolo "Odeion" of the Archaeological Park of Pompeii, in the context of the program Pompeii Commitment. Archaeological Matters, co-devised by Massimo Osanna and Andrea Viliani, who oversaw the production of the film work. Featuring an array of mediums the exhibition becomes a moving meditation on the themes of the film, weaving together reality and fiction in an exploration of historical, mythological, and literary references. Glass and ceramic, bas reliefs, paintings and drawings all come together to provide a vivid extension to the film's story. Shawky has said before that he considered the canvas as "a space where fiction turns into reality" and we see a similar manifestation of the characters of his imagination play out in glass.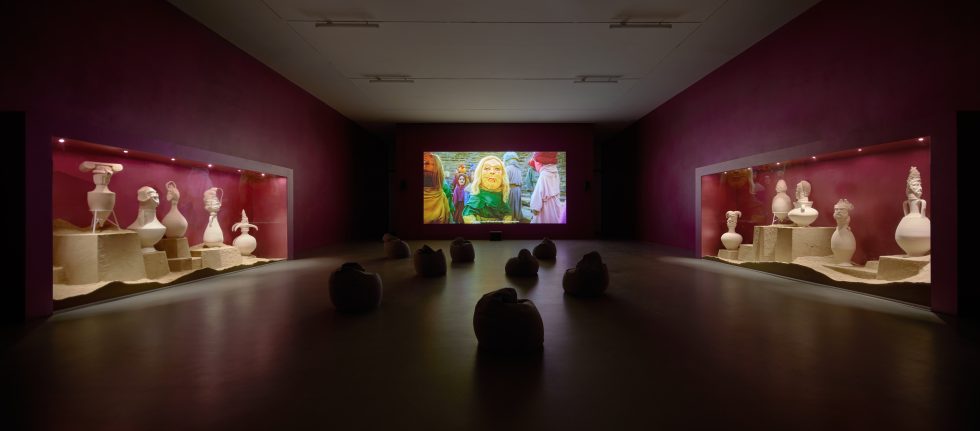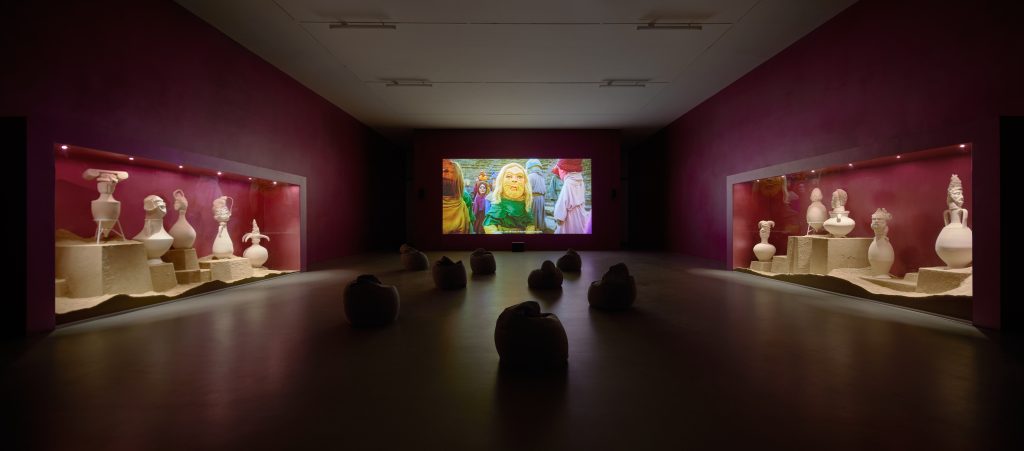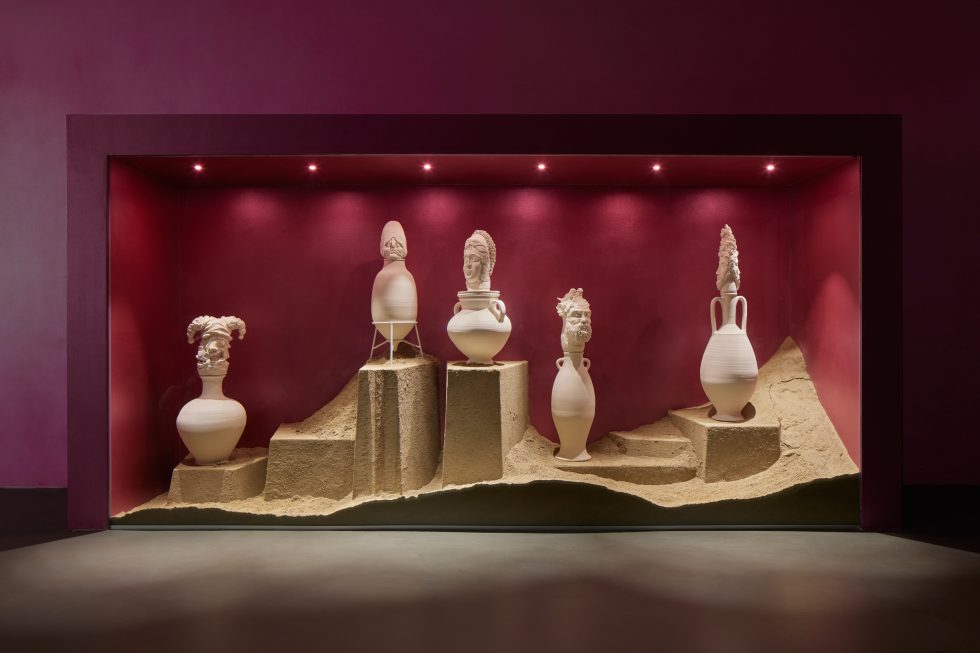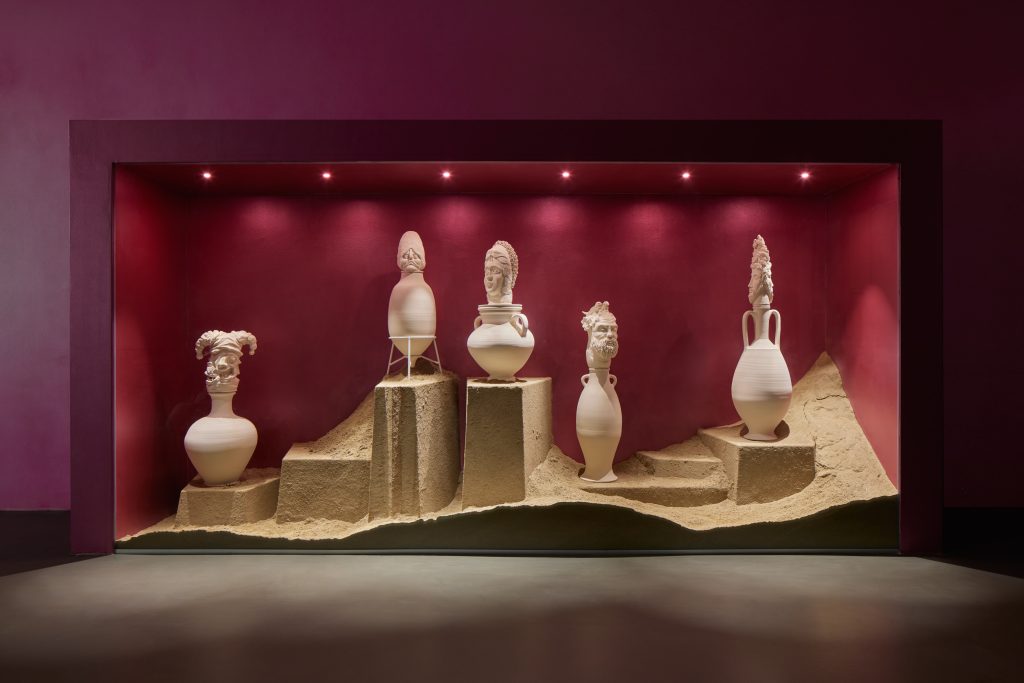 Shawky has been collaborating with Berengo Studio for  several years now, and first worked in the furnace back in 2014 to create the glass marionettes for his film trilogy "Cabaret Crusades" (2010-15). Here you can see some images from earlier this year when he worked together with the maestros of Berengo Studio in Murano in preparation for this new exhibition. The artist has used different fabrics and materials to interact with the glass base of each sculpture, forming unique compositions in which each character appears 'dressed' for the occasion in unique material arrangements. These physical characters stand in a striking row across the gallery space against a vivid pink backdrop, accompanied by the artist's sketches and paintings to complement the installation.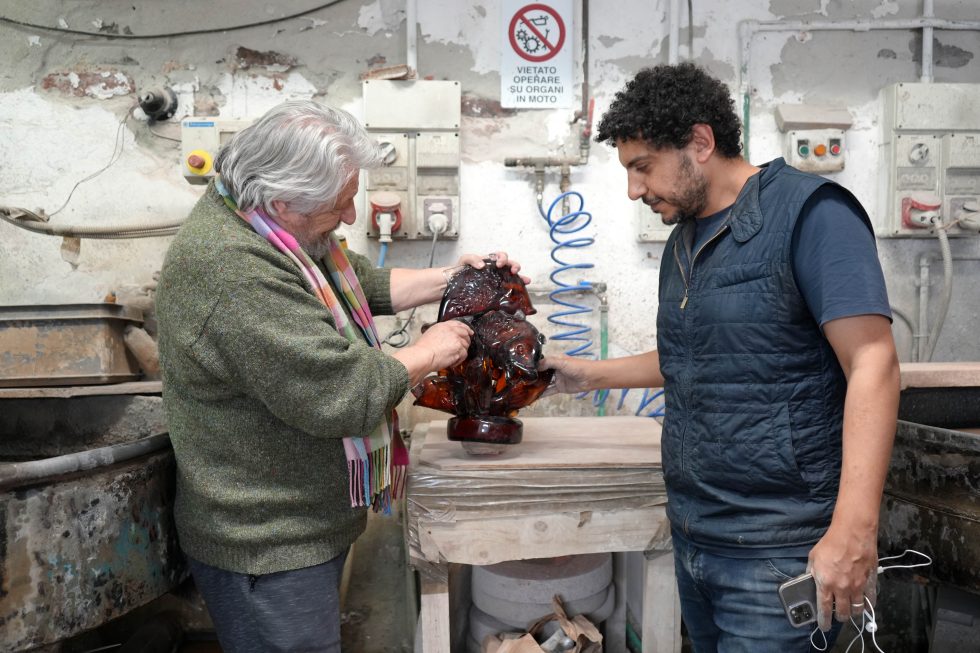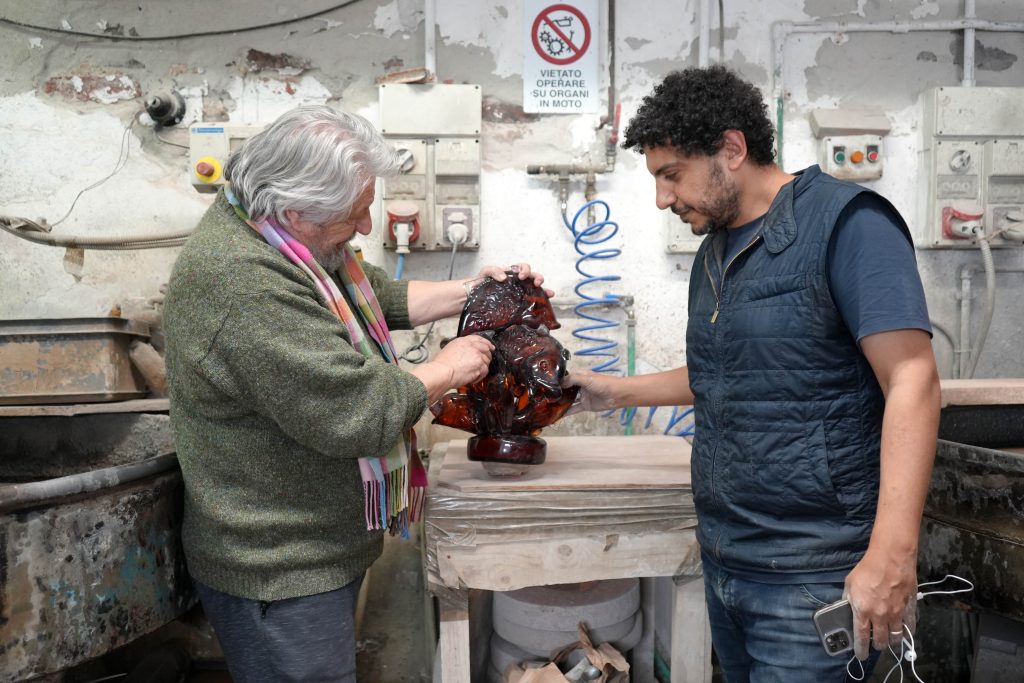 Here you can see the artist at work in Berengo Studio with Adriano Berengo and the glass masters earlier this year. At times Shawky even hand crafted models from clay to show the artisans the figures he wished to create. Metamorphic figures, each in different colours of glass came to life over the days the artist worked in the furnace, each character bringing with it a new spirit, elevated by the ancient material. If you have time make sure to stop by Milan and visit the exhibition today.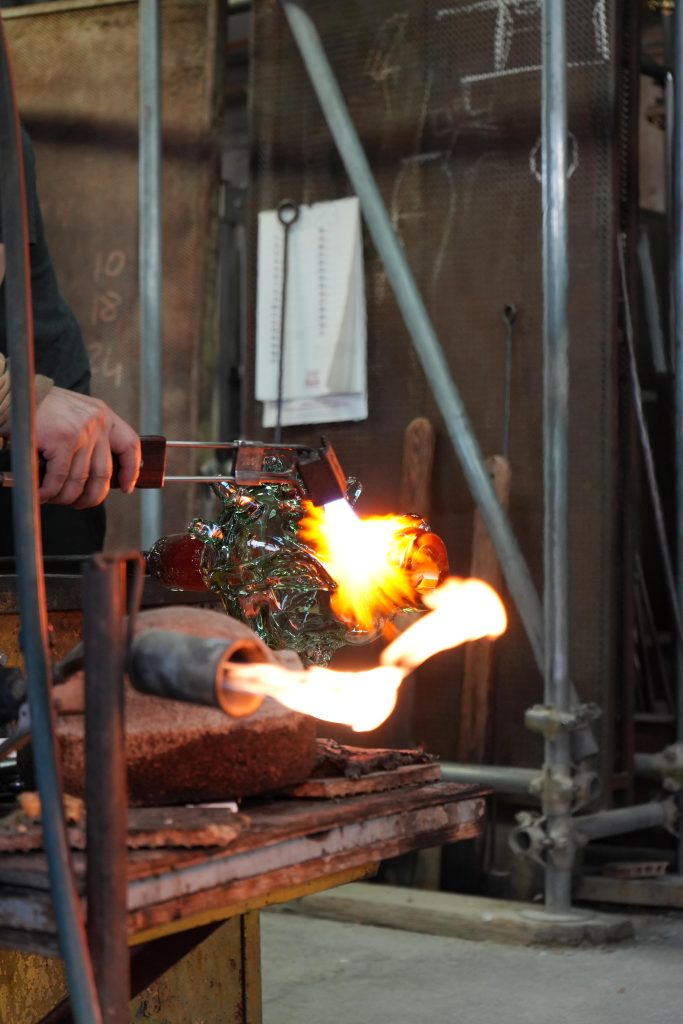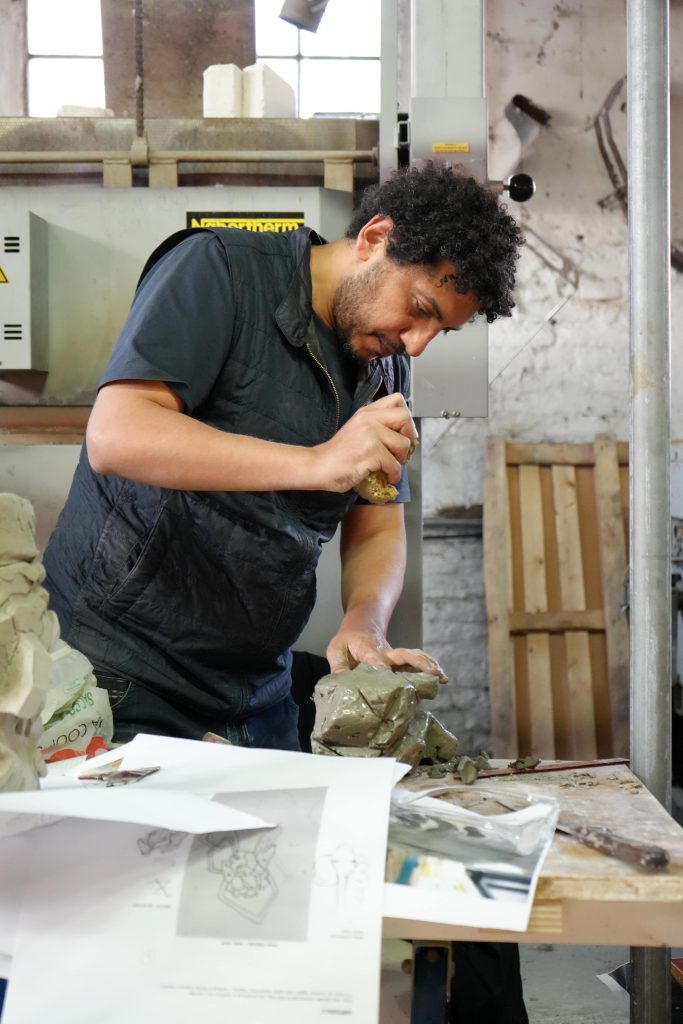 Wael Shawky
I Am Hymns of the New Temples
🗓18 May – 1 October 2023
⏰Tuesday to Saturday from 11:00 – 13:30 | 14:30 – 19:00.
📌Lia Rumma Gallery, Via Stilicone 19, Milan
For more information about the exhibition head to the Lia Rumma Gallery website here.
Images courtesy of the Lia Rumma Gallery (Wael Shawky, I Am Hymns of the New Temples, Galleria Lia Rumma, Milano, 2023. Ph. Agostino Osio. Courtesy Galleria Lia Rumma, Milano | Napoli), and Oliver Haas.