"Glass, a special material and a part of our daily life, bears witness to joy, anxiety and worry in our reality. In its presence we reflect upon the relationships between life and death, and between tradition and reality." – Ai Weiwei
This year, in a shift from the island of Murano, Ai Weiwei, in collaboration with Abbazia di San Giorgio Maggiore – Benedicti Claustra Onlus, Berengo Studio and Fondazione Berengo, will present an array of never before seen glass artworks as part of a new solo exhibition in Venice. 
Alongside artworks in porcelain, wood and LEGO, the glass series will be presented within the dramatic setting of Venice's Basilica of San Giorgio Maggiore from 28th August to 27th November 2022.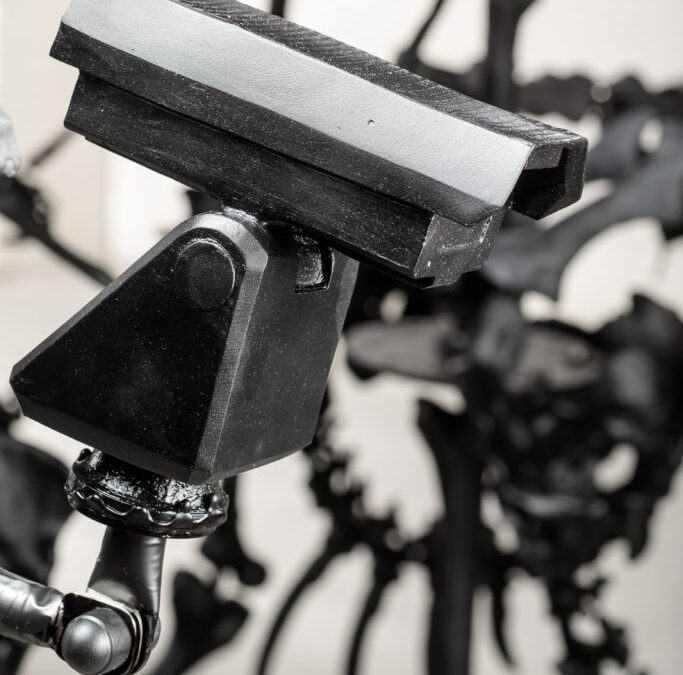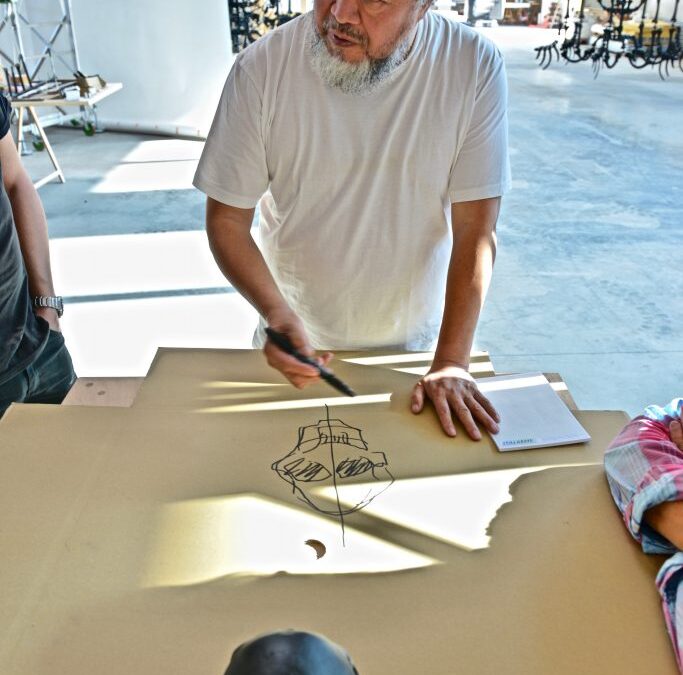 The centrepiece of the artist's glass series is La Commedia Umana, an enormous hanging sculpture comprised of over 2,000 pieces of black glass handcrafted by the maestros of Berengo Studio in Murano. Measuring more than six metres wide and almost nine metres high, the twisted monument is one of the largest hanging sculptures ever made in Murano glass in living history.
The intricate details of the imposing work are made visible through the skilful use of light by the Italian company Luce5. Thanks to this illuminating support, the artwork reveals a cascade of bones, organs and unexpected items which act as a poignant reflection on the alienating relationship between humans and the natural world, a message that rings loudly in the fragile ecosystem of the Venetian lagoon. Moreover, in counterpoint to Palladio's balanced architecture, the gigantic work and exhibition enhance the Benedictine monks' centuries-old commitment to promoting a fruitful dialogue between the church and contemporary art.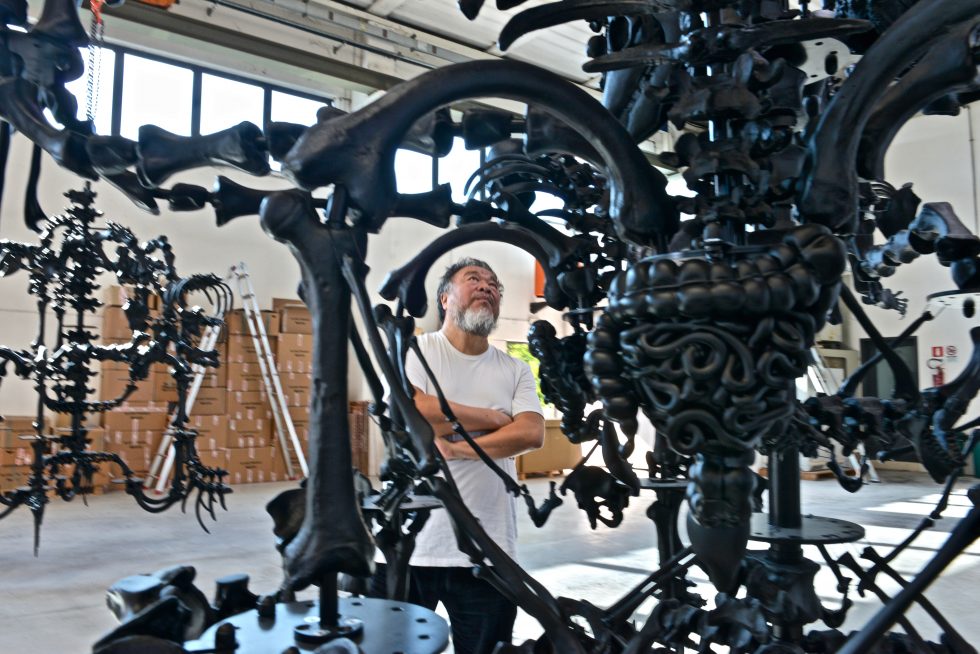 Ai Weiwei overseeing the first test installations of La Commedia Umana in Venice. Photo credit Edward Smith.
Weighing 2,700 kg, the monumental 'chandelier' debuted in Rome in March 2022 and returns to its origins in Venice, joining eight unseen glass works, including Brainless Figure in Glass, 2022, a self-portrait conceived through modern technology and manual sculpting; Glass Root, 2022, which harks back to the artist's woodwork following the discovery of remnants of deforestation and natural causes in Brazil in 2017; and everyday objects, such as Glass Takeout Box, 2022, a symbol of globalisation (first introduced in marble in 2015), and Glass Toilet Paper, 2022, which reflects our society's fragility.
Titled La Commedia Umana – Memento Mori and curated by Ai Weiwei, Adriano Berengo and Carmelo A. Grasso, Director of Abbazia di San Giorgio Maggiore – Benedicti Claustra Onlus, the exhibition will also feature a selection of Ai Weiwei's most notable works, such as Illumination, 2019 (loaned by Lisson Gallery), an iconic selfie taken by Weiwei in Chengdu, China, in 2009, as police escorted him to a hotel lift; and Dropping a Han Dynasty Urn, 2016, a provocative series of black and white photographs recreated in LEGO bricks. The exhibition will also present two of Ai Weiwei's latest LEGO works: Sleeping Venus (After Giorgione), 2022 and Know Thyself, 2022, two debut works commissioned by Galleria Continua, and Untitled (After Mondrian), 2022, loaned by Berlin's neugerriemschneider gallery.
AiWeiwei
La Commedia Umana – Memento Mori
Basilica di San Giorgio Maggiore
Island of San Giorgio Maggiore
30124 Venezia
28 August – 27 November 2022
10:00 – 18:00
Open every day except Tuesdays