This year Berengo Studio has been integral for creating work for several Biennale pavilions. In the last months we've been seriously busy collaborating with a number of artists participating in the 58th edition of the Venice Biennale of Art.
In the French Pavilion's immersive installation by award-winning artist Laure Prouvost you can spot several pieces created in the Studio, from the free-standing glass fountains to smaller oceanic details rendered in our own Murano glass.
At the Austrian Pavilion we had the privilege to collaborate with the iconic feminist artist Renate Bertlmann, the first woman to represent Austria at the Biennale. Her installation of over 300 hand-worked Murano glass roses pierced by knives takes its place in a body of work acclaimed for its feminist content, strength, and irony.
To top it off we also contributed to the Italian Pavilion through our collaboration with Liliana Moro and her La spada nella roccia (The sword in the stone) which features in the project Né altra né questa. La sfida del labirinto (Neither Nor. The challenge to the Labyrinth) curated by Milovan Farronato, inspired by a famous essay by Italian writer Italo Calvino.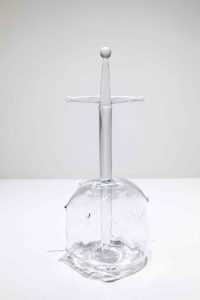 Liliana Moro, La spada nelle roccia, 2019 – Photo Nikola Grozdanov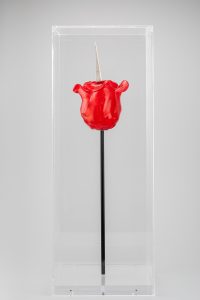 Renate Bertlmann, Discordo ergo sum, 2019 – Photo Sophie Thun
It's encouraging to see how many artists, when given the chance, are open to working with glass to create great works of art. Berengo Studio has always fought for glass to be used as a medium in this way, seeing its use in the Biennale grow over the years – often as a result of our direct input – is a hugely rewarding enterprise.